What is real ear measurement (REM)?

It is a computerized hearing aid fitting analyzer. Each individual's ear canal size, shape and hearing processes are different. REM allows your hearing care professional to better see the differences and compensate when programming the hearing aids. With REM we can measure and record your hearing instruments performance while you're actually wearing them in your ears. This prescriptive fitting protocol provides verification that the hearing instruments are being properly fitted to your individual requirements based on your hearing loss.
The importance of using real ear measurement
Why is it important to use Real Ear Measurement
All hearing aid manufacturers provide hearing care professionals with programming software to use when fitting their digitally programmable hearing aids. Their programming software uses an average fitting protocol to set the hearing aids target response for each person's hearing loss; it's called the "best fit" approach. Research has shown that most manufacturers' "best fit" programming target formula that controls today's digital hearing aids often fall short of the desired level of accuracy. This lack of accuracy is of no fault to the manufacturers themselves, but rather the complex nature of fitting each individuals hearing loss. What works well for one person does not always work well for another person.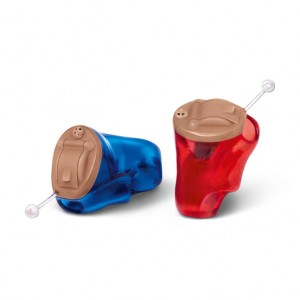 Each individual's hearing loss is different in numerous ways; these differences can largely affect the benefit that hearing aids provide to the individual wearer. Each individual has different likes and dislike when it comes to hearing sound and processing speech; these differences are caused by the hearing loss itself. The very nature of hearing loss slows down an individual's ability to process and recognize sound and in particular understand the complex sounds that form speech. Real ear measurement (REM) allows the hearing care professional to program the required and needed parameters to each person's own hearing loss and tolerance levels.
The majority of hearing care professionals does not use REM
Even though real ear measurement (REM) is the accepted standard of practice for objective verification of hearing instrument performance, it is sad to say that the majority of hearing care professionals do not include these important measurements in their fitting procedures. The two most common responses for its lack of use are the cost of the equipment and the time required to perform the procedure.
Over twenty years of practice verifies the importance of REM

I have been using real ear measurement (REM) for over twenty years, and I would argue that REM saves both time and money. Without using REM, the fitting process would be nothing but guess work trying to determine the proper fitting parameters. REM takes the guess work out of the fitting and at the same time it verifies accuracy. REM almost eliminates future trouble shooting problems and it assures both the patient and me that the instruments are properly fit. When a patient leaves my office after a fitting with REM, I know just how well the patient is going to hear because I have seen it in vivid color on my computer screen when I hit their prescriptive fitting target. The ten minutes I spend performing REM far out-weights the time I would spend trouble shooting problems on the follow-up visits.
The very essence of proper hearing instrument fitting is based on a reliable hearing test evaluation and proper fitting protocols that include real ear measurements (REM).
REM is quick, reliable and comfortable for the patient. The information it provides is invaluable and it verifies the proper fit for today's state-of-the-art digital hearing instruments. Don't be fit with new hearing aids without it!